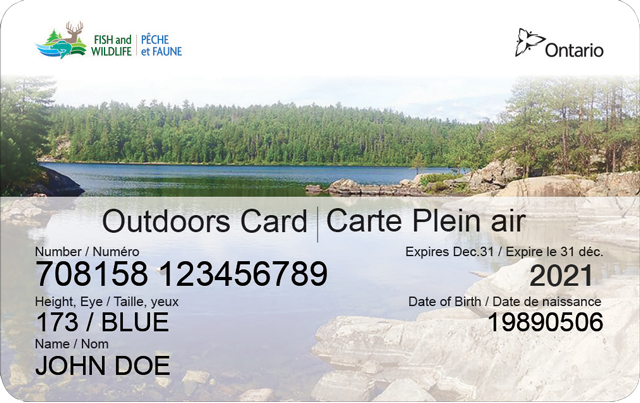 Where to buy or renew an Outdoors Card and buy licences and tags
The Outdoors Card renewal period starts the 1st Tuesday in December every year.
Fishing licences
Two types of fishing licences are available:
Sport fishing licence, which includes full catch-and-possession fishing privileges
Conservation fishing licence, which includes reduced catch-and-possession limits. This is ideal for anglers who want to release the majority of fish they catch.
Fishing licences are available for different durations, including:
one day
eight days
one year
three years
You can buy your fishing licence online and save it in a digital format (for example, on your smartphone), print it from home, or print it through a participating ServiceOntario or licence issuer location.
You must follow catch and possession limits.
Hunting licences and game tags
Anyone wanting to hunt in Ontario must have a valid Outdoors Card. You will also need appropriate hunter accreditation to buy hunting licences and tags.
Before you can buy a hunting licence, your hunter accreditation must be on file with the Fish and Wildlife Licensing Service.
Ontario residents must provide proof of successfully completing Ontario's Hunter Education Program requirement (or an Ontario-recognized equivalent) to a participating ServiceOntario location.
Non-residents must plan ahead and submit their hunting accreditation in advance. To do so, call the Natural Resources Information and Support Centre at 1-800-387-7011 prior to visiting Ontario.
Hunting licences and tags expire on December 31 of the year they were issued.
It is your responsibility to know the open seasons for the species you're hunting.
New fishing and hunting regulations
A number of rules and requirements for fishing and hunting in Ontario are changing to help improve services and support a new licensing service.