NEW PORTAGE EXCURSIONS AVAILABLE
Century Lodge now offers 6 remote lakes via 4WD, ARGO Excursion, or float plane even further into the wilderness than our already remote island location. Highly touted for being the only lodge on the whole SE end of the lake, Century Lodge also has a vast array of out lakes to be fished by its guests. Choose from any number of portage lakes with boat cache's for an adventure that is sure to please even the most avid angler. Pricing varies. Please inquire upon booking.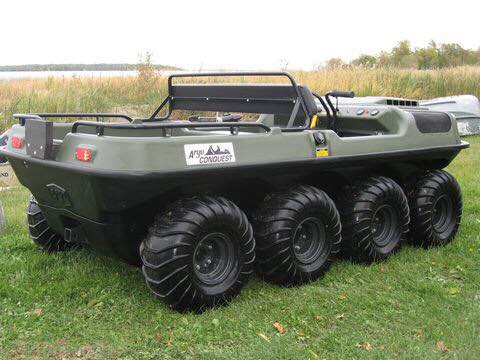 1: Muskie Portage Lake – You and your guide will navigate down the lake and take an 8 wheeled Argo Conquest deep into the bush for a numbers muskie lake second to none! Last year, one party of 4 boated 44 muskies in one day
2: Guided Falls Portage – This catch and release portage offers true remoteness and the opportunity to navigate around a beautiful waterfall setting. Fish for trophy walleye and northern and enjoy a shore lunch along the way! 28-32" inch walleye are caught and released in this lake on a yearly basis.
3: New Guided 4WD day trip – You and your guide will drive to a remote trout lake cache so remote that you have to drive then boat across one lake to another short portage where the fun begins. A bit of work but will prove to pay off when you are fishing trout that rarely see lures!
4: A local favorite, Wilderness Lake offers 5 separate sections of water that all fish differently and is known for its fast action walleye fishing. A true gem and beautiful adventure via 8 wheel Argo!
5: Remote day slab Crappie Lake! Spend the day hooking into some of the best black crappie fishing and fill your cooler for a great fish fry that is sure to please everyone back home!
6: Private Remote Smallmouth OUTPOST LAKE! Have the time of your life reeling in smallies left and right. Use topwater and cranks and catch smallmouth until you get tired of them.